May 21, 2011... My daughters wedding!!! The most important Bridal bouquet of my career! Pictures will be up soon. Check back!
2005, 06, 07, 08, 09, & 10 Weddings
Here are a few highlights of recent weddings.
(click on the thumbnails for a larger view)
This is a very large page with many photos. Give it time, it will be worth it!


June 19, 2010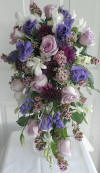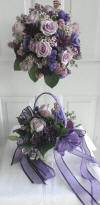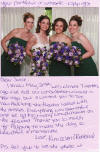 May 29, 2010 (Thank you so much for the picture, Kim!)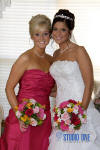 As featured on our Home Page, November 7, 2009
St Paul the Apostle Church, Concord Banquets
Thank you Studio One Photography for your contributions!!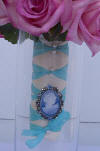 September 5, 2009
Tiffiny had been given a very special brooch from her grandmother and asked me to incorporate it into her bridal bouquet.
The bride's attendants wore 2 shades of aqua and the handles were wrapped in coordinating colors.








St Patrick, Wadsworth / Independence Grove, Libertyville October 3, 2009




St Paul the Apostle, Gurnee, August 1, 2009


Illinois Beach Conference Center (tent), June 27, 2009






Illinois Beach Conference Center, May 29, 2009



Meadowbrook Country Club, Racine Wi October 11, 2008

Marriott Lincolnshire (Picnic Grove Tent), July 4, 2008


June 28, 2008



Above, the gardens of the Winnetka Community House, September 29, 2007




Above, Thunderhawk Golf Club, June 16, 2007


Nov 10, 2007


October 7, 2007
---



Above photographs by Classic Photo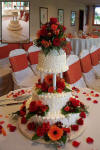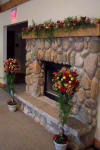 Above Thunderhawk Golf Club, Beach Park IL
.





Above are photos from our Bridal Shows at Midlane Country Club & Radisson Hotel 2006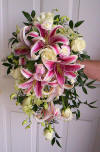 Above, First Christian Church, Kenosha and Parkway Chateau, Kenosha
April 29, 2006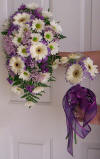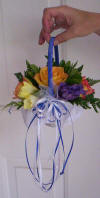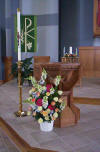 Above, Faith Lutheran, Fox Lake June 23, 2006


Above, Harrison Manor House, Lake Bluff, May 26, 2006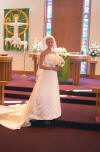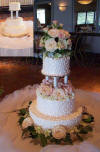 Above, St Paul's, Waukegan and Great Lakes Naval Base, North Chicago, July 22, 2006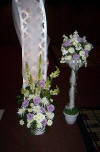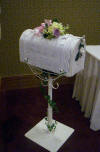 Crown Plaza, Mundelein, June 24, 2006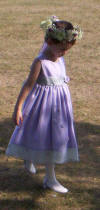 Above, Illinois Beach Conference Center, July 29, 2006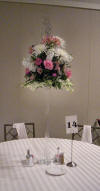 Above, St Paul the Apostle, Gurnee and Harrison Manor House, Lake Bluff, August 26, 2006

Above, the Lilly of the Valley is silk, the Roses and Callal Lillies are real.
September 3, 2006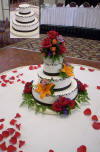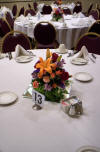 Above, Raddison Hotel, Pleasant Prairie, October 7, 2006
More photographs will be coming!
We are not always able to get photographs of our weddings. So, if any of our bride's
would like to share their photos with us and our internet audience, you may e-mail them
to us at: photos@petalsandpromises.com
or mail them to: Petals and Promises Wedding Flowers, 12738 W Chaney St, Beach Park, IL
Thank you for visiting. Return to our home page by clicking here.
Comments or questions? Contact us at info@petalsandpromises.com