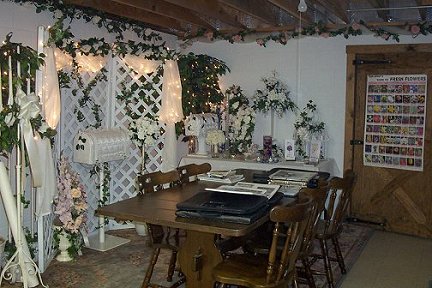 Our consultation area in Beach Park.
(12738 W Chaney St, Beach Park IL)

Wedding flowers to consider:
* Bridal bouquet
* Toss bouquet
* Attendant bouquets
* Flower girl or Jr. attendant
* Boutonnieres (Groom, Best Man, Groomsmen, Ushers,
Ring Bearer, Fathers, Grandfathers, Godfathers,
Special Guests, Musician, Speaker and Minister)
* Corsages (Mothers, Grandmothers, Godmothers,
Pianist, Vocalist and Personal attendant)

The following will depend on your ceremony site:

* Main altar arrangement
(also used as the Head table arrangement)
* Pew decorations
* Aisle runner
* Candelabra or aisle markers
(with or without removable floral arrangements)
* Podium arrangements

For your reception:

* Guest table centerpieces
* Wedding cake decorated with fresh flowers
* Floral arrangements for card, gift and sign-in tables



our consultation is held in the privacy of our home office, located in Beach Park, Illinois. Since few brides know what look they're after, we offer an extensive photo portfolio of work we've done since our establishment in 1992. In addition, we provide floral design books and display our ceremony and reception props. A photo slide show (through computer laptop) is also available.
We will discuss your wedding gown and attendant's dresses and will guide you as to which flowers best compliment them. Considerations for flower selection will include flower availability, color availability and flower sensitivity (to heat and cold).
We will also help you to convey any theme you wish to have throughout your special day.
Helpful Hint:
When choosing your ceremony, bridal party and
reception flowers, we suggest choosing your
bridal bouquet first, as everything else should flow
in design and color. If possible, bring a dress
swatch for color matching.
We never pressure our clients, as we believe our work (as well as price) speaks for itself. The majority of our bookings come from the referrals of satisfied brides, their bridal party members and wedding guests. (Please note that we limit the weddings we will service to one per weekend to ensure that we can provide you with the personal service and attention our previous clients will attest to. For testimonials,
click here.
Helpful Hint:
We recommend that you book your wedding flowers
6-9 months in advance. The months of May
through September are the most popular
for weddings. Some of our brides have booked
as early as two years in advance!
At the end of your consultation (which usually takes about an hour), we will provide you with a complete price quote. You are under no obligation to book at this time, however be sure to note that we do not reserve your date unless we receive a $100 deposit. Be sure to check out our photo portfolios which feature flowers from our 2004, 2003 and 2002 weddings.
Consultations are by appointment only.
To contact us:
By e-mail at info@petalsandpromises.com
By phone at (847) 740-8635

Click here to return to our Home Page.